£245 / €296 / US$331(i)

The Euro and Dollar prices shown are approximate: the actual cost when paying with any currency other than GBP will be displayed on the Paypal checkout page.
Free shipping
May Tremel (1882-1963):
Polpever - A Cornish Farm
Unmounted (ref: 1995)

Etching,
copper plate: 7 3/8 x 11 1/4 in. (18.8 x 28.8 cm.), print: 11 1/4 x 14 3/8 in. (28.5 x 36.5 cm.)

See all works by May Tremel etching print children farms/domestic animals flowers landscape painted en plein air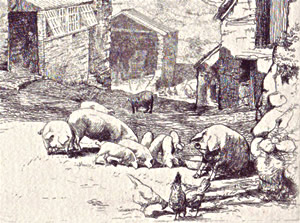 A small, posthumous edition of prints has been pulled from the original copper plate on
Arches
paper 250g/m².
The Old Barn, Polpever is located in a small hamlet of renovated farm buildings situated in the hills above the pretty coastal town of Looe, South East Cornwall. The cottage enjoys magnificent views across the valley.